Deploying Vic the Chatbot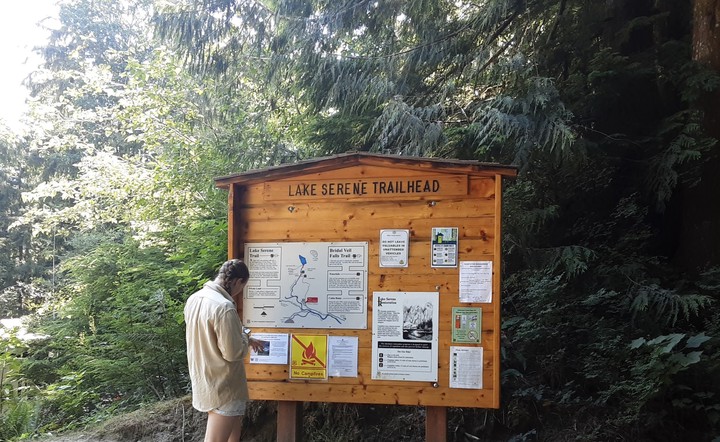 Since 2018, the Outdoor R&D Team has been successfully deploying our friendly chatbot "Vic" to engage with community scientists on public lands across the US. Vic is a conversational chatbot that sends and receives text messages as a way of interacting with people as they recreate in parks and on public lands. Vic can support a wide variety of research and land management questions by gathering information on visitor counts, visitor destinations, activity type and satisfaction as well as many other types of visitor characteristics. Vic has the potential to gather a rich diversity of information.
How Does it Work?
Vic is a computer software program that runs in the cloud and listens for incoming text messages from people who are recreating on public lands. The incoming text messages are read by the program, processed, and then stored in a database, along with metadata about the date and time the message was received. Then Vic formulates a response message that is sent back to the visitor via text message. This "conversation" continues through a set of predefined questions, or until the visitor chooses not to respond.
Benefits of Vic
Engages visitors to help collect data
Highly accessible technology that does not require special equipment or apps to participate
Questions are entirely customizable
Provides an opportunity to supplement traditional data collection systems
Relatively low cost to deploy and maintain
Volunteers can collect data at places and times that are otherwise challenging to monitor
What's Required
The Outdoor R&D Team can help researchers and practitioners who would like to customize and deploy Vic in new locations. Deploying Vic involves 3 simple steps:
Choose locations to deploy Vic
Create a list of questions to ask volunteers, based on the information you want to collect
Post a simple laminated sign at your study site(s) asking visitors to volunteer information by texting a local phone number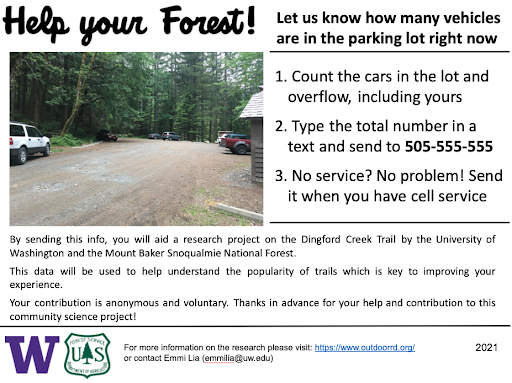 In addition, the Outdoor R&D Team can perform the following services:
Deploy and maintain the Vic software in the cloud
Manage data storage and software backend
Convert raw data into cleaned and anonymized datasets
Designing signage
Developing survey questions
Deploying web-based tools monitoring activity at each site
Data analysis and visualization
Costs
The cost to deploy Vic varies depending on the scale of the project, the number of questions, the number of text messages that are sent and received, and the desired services. Typically, deploying Vic costs $100 - $250 per location per month. Contact us for specific information.
FAQs
Do my study sites need cell service?
No. Volunteers can initiate a conversation with Vic without cell service. Once the phone is back in range, Vic will pick up the conversation right where the volunteer left off.
How much data might I expect to collect?
This depends on the time of year and the popularity of a site, but we get as few as a half a dozen respondents up to hundreds of respondents from a single site during summer in the Pacific Northwest.